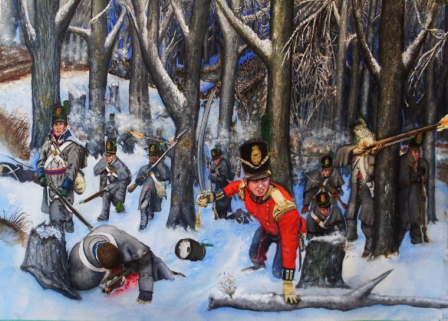 "Scots Twilight- The Battle of the Longwoods" by Royal Scots member Jeff Mason
Limited edition print to mark the Bicentennial of the War of 1812
This painting depicts the final attack by the Light Company of the Royal Scots against the American held log and brush abatis on the crest of 20 mile creek at sundown on March 4th, 1814. Led by Captain David Johnstone (pictured centre), the company came under a hot fire as it crossed the log bridge, and advanced up the icy slopes to come to grips with the enemy. Suffering heavy losses (including Captain Johnstone, shot down 10 paces from the American position) the Royals were forced to pull back, leaving their dead on the field. The Light Company of the 89th regiment, attacking on the other side of the road, suffered a similar fate. The remnants of the two companies, along with their militia and Native allies, retreated to their base at Delaware. The American raiders, concerned that a larger British force may have been in the area, returned west on the Longwoods Road to Detroit.
* First print run of 250, taken from the original watercolour painting.
* Print size 18" x 24"
* Each print signed and numbered by the artist
* Printed on 65lb acid free art stock, suitable for framing.
* All profits from print sales go to funding bicentennial projects, such as the 1812 casualty database, monument construction/dedication, and veteran grave markers.
Price: $25.00 (Cdn)
This print will be available for sale throughout the Bicentennial. Below are listed some of the locations/dates where they will be available for sale this year:
* June 18th, 2012, Central Branch London (Ontario) Public Library, at the "Longwoods and Losses" presentation in the Stevenson and Hunt Room.
* July 1st 2012 Harris Park, London Ontario, at the Royal Scots Light Company Canada Day display.
* September 7 –16 2012 Western Fair, London Ontario, at the Royal Scots Light Company booth display.
* Come see us in our camp at the Battle of Stoney Creek (Stoney Creek Ontario June 2-3 2012), Fort George (Niagara-on-the-Lake Ontario July 14-15 2012) or Siege Weekend Old Fort Erie (Fort Erie Ontario, August 11-12 2012). Prints will be available.
If you can't make it to any of these locations, contact Jeff Mason at brownbess@live.ca. Other arrangements for delivery can be made.